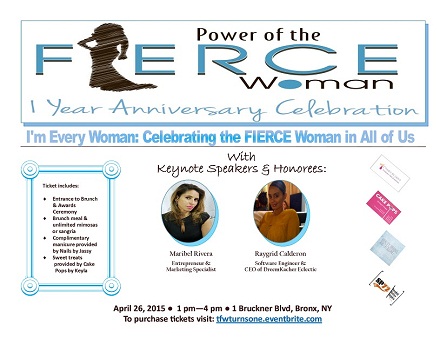 In April of last year what started out as a small idea while sitting in my downtown Manhattan office to host an event where I could connect and unite women to celebrate everything that makes us FIERCE evolved into The FIERCE Woman Foundation. Last year we produced 3 events each of which sold out. This month we will be celebrating our 1 year anniversary and I could not be a prouder of what we have created. Though still in her infancy, The FIERCE Woman Foundation is committed to change the way women perceive themselves and each other. We are an unstoppable force. We are mothers, wives, daughters, sisters, aunts, friends. We are business women, entrepreneurs, leaders, coaches. For a very long time women have been taught to believe that it is almost impossible to have both successful personal lives as well as professional lives. I am here to tell you that it is possible to have both and to also live the life that you've always dreamed of because I am living proof.
Please join me  April 26, 2015 at the Mott Haven Bar & Grill as I celebrate the The FIERCE Woman One Year Anniversary Brunch & Awards Ceremony. This year's theme is "I Am Every Woman: Celebrating the FIERCE Woman in All of Us" because women no longer have to choose between roles. We can do it all if we choose to.
We will be honoring two phenomenal women who are making great strides in business and technology. These women are FIERCE women determined to make their dreams come true and are doing just that. In addition to being honorees they will also share their personal stories of success. They will wow you with their sheer will to get things done by any means possible. Where most people find an excuse they find a solution. They will share with you their pearls of wisdom on how to make it in business and succeed as a woman.
This is a very intimate event and only a limited amount of tickets are being made available to the general public. Once all tickets have been sold there will be no additional tickets and absolutely no tickets will be available for sale at the door. To purchase tickets please visit: www.tfwturnsone.eventbrite.com
Your ticket includes a pre-fixed brunch and your choice of unlimited mimosas, sangria, or non-alcoholic drink (for the duration of the event), complimentary manicures by Nails by Jassy, sweet treats provided by Cake Pops by Keyla, and unlimited access to some of today's most influential women in business. Bring your business cards and charm and be prepared to mingle with some very successful women. Please note that this is a FEMALE ONLY event.
Thank you to all who have supported us this past year. I look forward to seeing you all and celebrating this milestone with you.
With love
Nancy A. Ruffin, Founder, The FIERCE Woman