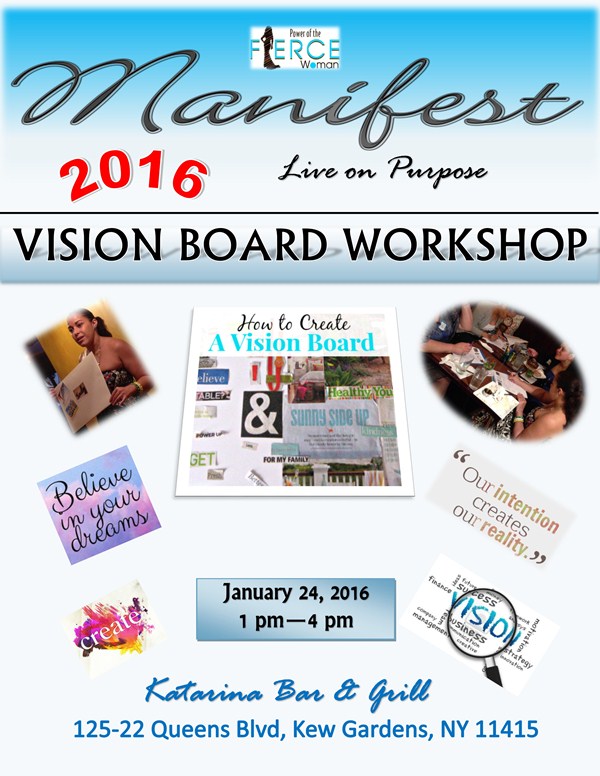 For the past few years vision boards have become very popular, primarily because they work. The reason they work so well is that they help to keep you focused on your goals. Creating a sacred space that displays what you want actually does bring it to life. What we focus on expands. When you create a vision board and place it in a space where you see it often, you essentially end up doing short visualization exercises throughout the day.
I have been using vision boards since 2011 and since then have seen so many great things come to life for me. Everything that I've put on my vision board has become my reality. I manifested my greatest desires by remaining focused and committed and  I want to help others do the same.
Many of us live day to day without really giving much thought to our dreams and desires. Life seems to get in the way and between shuffling the kids back and forth to school and activities, being a wife, taking care of home, or handling business at the office many women just don't pay attention to their passions. It's time that we stop giving so much of ourselves to others and give a little bit back to ourselves. It's time to stop  floating through life and learn how to live each day with purpose.
The theme for 2016 is LIVE ON PURPOSE. Discover your God given gifts and learn how to use them to create the life that you dreamed of. The power of INTENTION is real. What you focus on is what you call into your reality. Join me on January 24, 2016 at Katarina Bar & Grill in Queens and learn the secret to manifesting your dreams through the use of vision boards. I promise, you will leave the workshop focused and ready to conquer 2016. And if you've ever been to any of my events you know that I always make them fun and memorable. And you might even leave with some goodies.
Don't know what a vision board is? Don't know how they work or the benefits they provide? Vision boards have proven to be a useful tool to help clarify, concentrate, and maintain focus on a specific life goal. I will teach you how to identify your vision/dreams/goals for the upcoming year. I will help you to set clear, specific, and realistic time frames. I will teach you how to reinforce your vision through the use of daily affirmations and how to use the vision board to help keep your attention on your intentions. Early bird discount registration is currently available so reserve your seat now by visiting our event page on Eventbrite.
All of us have within us this amazing capacity to manifest and attract anything we want into our lives, – Dr. Wayne Dyer
Below is some feedback we received from some of last year's workshop attendees:
There is so much I would love to accomplish, but I need to take time and plan my future. The vision board will be my first step to start on my baby steps in achieving my goals. Thank you for empowering me and encouraging me. – Liliana Cintron
I really enjoyed this workshop. I felt like this is what I needed to hear to get myself refocused again. I'm definitely recommending these workshops to my family and friends. I have faith that I can achieve and I will achieve my dreams and set realistic goals to get me there. Thank you for the reaffirmation! -Xamayta Perez
This workshop gave me back dreams that I thought I lost. It also grounded me and put me back where I belong. The only person stopping me is me! – Amrita Ballard
I love the feeling of unity amongst women. We need to continue connecting with more women. We are a force to be reckoned with. – Alexa Vega
To read more about last year's workshop click here The FIERCE Woman Vision Board Workshop